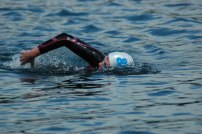 Hobby swimmer swims 12 km after 13 weeks of online training

Hobby swimmer Reika from Hamburg swam 12 km a open water race
On the last day of her first Tenerife Camp Reika who had been struggling with 3 km swim sessions came up to me " I would like to take part in a 12 km open water race, would you like to train me for that ?" she said to my surprise. "When, I asked, when is the race, next year?" No, she replied, it is in 13 weeks!!! Ok, I really love when people set up high goals and fight for them and I thought Wow, I´d better help her if she is going to have the slightest chance to survive this challenge. Said and done and we started the training right away. In the beginning Reika was a little sceptical to my training methods and worried that we didn´t do enough distance but as the weeks passed she felt better and better adapting to the training without any injuries or over-training symptomes. After the 13 weeks had passed, she finished the 12 km open water in a time of 4 hours and 23 minutes! Respect Reika!!!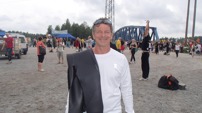 From World Champion in 50m to Nordic Champion in 3km within 3 weeks

From Supersprinter to distance swimmer within 3 weeks?Three weeks after winning the 50m breast at the World Masters Championships I proved that I can also hold the distance by winning the Swedish/NordicMasters Championships in Vansbro: 3km in 35 minutes 56 seconds in nice 17 C degrees.....Superhuman?
NO, not at all. It is all about knowing HOW, WHAT and WHEN to train! If you want to know how to reach your full potential join one of my camps, seminars or write to me for information on "Nine weeks to success"