About upcoming Camps - 2019 and 2020 (New)






2019
July 22th - Aug 3 International youth Camp - is now fully booked
Oct 28 - Nov 3 New Adult and youth Camp - is now fully booked


Kan du försöka uppdatera lite info pa hemsidan? Viktigast: The International youth camp is now fully booked. och The Autumn camp October/November is now fully booked. You can sign up now for the camps in January, February or March where we still have available spots.


2020 NEW

Jan 17 - Jan 24 New Adult Camp - Focus on TECHNIQUE. - we still have available spots. BOOK NOW
together with the Swedish/Norwegian swimscientist Johan Setterberg
Febr 7 - Febr 23 Wintercamp - we still have available spots.BOOK NOW
March 6 - March 15 Marchcamp we still have available spots. BOOK NOW
April 8 - April 24 Aprilcamp we still have available spots. BOOK NOW

Oct 18 - Nov 5 Oct/Nov camp (more info will follow soon)

Detailed information - go to - qlick

NEW email to Glen Christiansen: glen.christiansen@olympian.org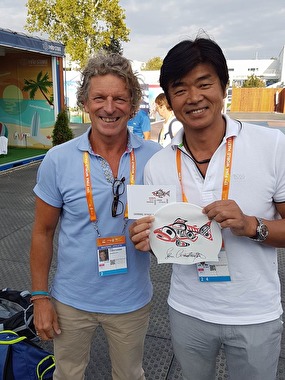 World Masters Championships in Budapest august 2017.
It was my worst World Masters Championships ever and it was my best World Masters Championships ever!
Why the worst?
Because never before since my first World masters Championships in 1986 in Tokyo have I been outside of the top 3 positions in any breaststroke event. I have won 15 World Championship titles and more silver and bronze medals that I know between 1986 and 2012.
Why the best?
Because never before have I felt so much support, positive energy and love from old and new swimming friends.
Never before have felt so much happiness after swimming and placing 4th, 5th and 6th .
When I touched the wall after my first race I felt so happy, so relieved from what has followed me since my stroke/accident in 2013. And even though I swam 5 seconds slower than at the Worlds in 2012 I feel like a winner again.
And the whipping on the cake was of course to win the silver medal with an European record in the medley relay with my friends Lennart, Leo and Bernt, friends and team mates in Göteborg for over 40 years!

Photo: Together with my old friend - the breaststroke champion Shigehero Takahashi of Japan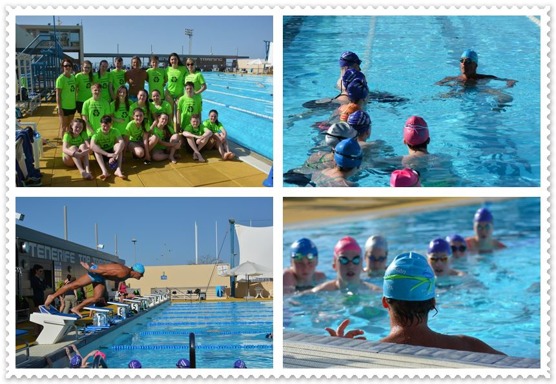 "Guest Coaching"
Track start, Breastroke and butterfly practice The day after the April-Camp I did a two hour "Guest coaching" with the Irish club "Carrick Dippers" . Here´s some photos from the 2 hour session that included Technique for Track start, breaststroke, butterfly and introduction in the swimming flume.

I got a written thanks from them as follows:

"On behalf of everyone involved in the Carrick Dippers trip to T3 last week, I would like to thank you for the time that you spent with us. I think that it was the highlight of the stay for all of us and I heard some of the swimmers comment that their strokes had improved even from that one session; it was certainly unusual to have an up-close view of the strokes by having the coach in the pool with them!"

Photos by Alastair Goldring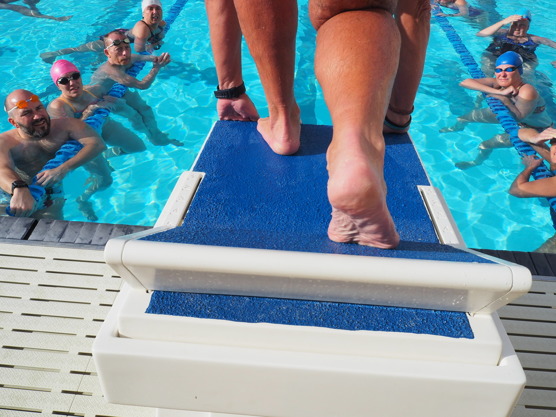 Small details
One of the most important things you need to know when you start swimming as an adult, is that you need to change and adapt the traning according to your current age, level and life situation. At my camps in Tenerife I hold seminars letting you learn more about these facts. Here are some of the seminars where you can learn more about how to train as an adult. - Weight training for swimmers - Age and Performance - Mental training for a swimmer- How to lose weight and stay fit - Preparing for Competion.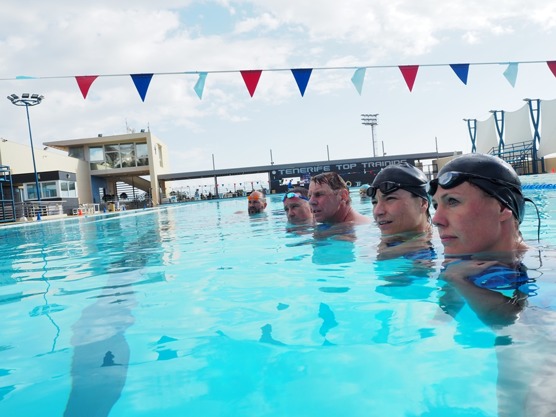 Masters-Camps
Swimming has been a passion all my life. For many years have I been conducting swim camps and personalized training plans for swimmers from all over the world. Regardless if you are training for a Masters Swim Championships, an Open Water race or if you are a young or " old" swimmer looking to improve your technique, you will need proper training and assistance

If you are a Masters swimmer training as you did when you were 18 at the age of 40 you are training wrong! If you want to know more about how to train either join one of my Swim Camps or contact me for a personalized training plan! I am here to coach you, share my experiences as a coach and swimmer and hold seminars on training, racing and all you you need to know to be a happy and successful swimmer. I coach in English, German and Scandinavian.
Shopping, shopping, shopping...

Dont miss the new collection of swimwear !
Designed by Glen and Pia och made by FINIS !
A good combination !

Go to web-shop - Click
Youth camps in Beirut
LISA (Lebanese International Swim Academy) has been created out of passion for swimming in an effort to help promote this wonderful and complete sport as a lifestyle in addition to helping competitive swimmers reach their full potential. Its mission is to increase awareness of and promote the benefits of swimming on the body and the mind in addition to helping swimmers swim faster and more efficiently.
LISA offers tailor-made programs through specially targeted camps: Youth Camps, Camps for competitive swimmers, programs for young kids, Stroke Clinics for improving swim techniques, Adult Camps, in addition to Train the Trainer seminars. Lebanese International Swim Aacademy is the first of its kind in Lebanon and works under the patronage of Glen Christiansen, World Champion and Olympic Coach.

Go to our page about Beirut Camps - Click
Link to LISA (Lebanese International Swim Academy) - Cqlick
See the clip above.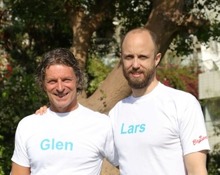 Coach Team
Have a look at who assisted Glen during the camps (photo above - Olympic champion Lars Frölander Sweden) Click
Frauke Labarre
Hamburg/Germany
World Champion Masters 2017 - 100 fly 40-44 year
Susanne Rogge
Berlin/Germany
Robert Jacubek
Småland/Sweden